Bienvenidos todos de nuevo
Un año más, y después de muchos preparativos, ya estamos dispuestos para comenzar a  programar un nuevo viaje al World Ducati Week 2018
Después  de  meses  de  preparativos,  de  búsquedas  de  hoteles  y  ferrys,  de  llamadas,  confirmaciones, de muchas y muchas horas de trabajo, todo está por fin listo para que paséis  unos días estupendos rodeados de vuestra familia del D.C.E.
No solo viajaremos al WDW18, que ya por si, sería suficiente, sino que, además, en esta  ocasión visitaremos una ciudad espectacular, como es Florencia.
Como ya sabéis todos, la idea es que seremos un grupo bastante grande por lo que hay que  ser conscientes de los siguientes puntos:
1 – Puntualidad:  En nuestro último viaje a Italia hubo problemas en algunos días con este punto.   Esto NO PUEDE VOLVER A REPETIRSE, por lo que, por el bien común del grupo, se ruega mucha  puntualidad sobre todo en las salidas por la mañana a la hora de abandonar habitaciones etc.   Así que os rogamos a todos PUNTUALIDAD MAXIMA, para no hacer esperar a los compañeros  que si estén preparados.  En esta ocasión, y si es necesario, tras unos minutos de cortesía, el  grupo partirá sin aquellas personas que lleguen tarde, siendo estas las que deberán preocuparse  de alcanzar al grupo o bien de buscarse la vida para llegar al hotel.
2 – Respetar las normas de Tráfico:   En Italia se conduce bastante mal, se invaden carriles  contrarios, se adelanta en prohibido y no se respetan las señales, pero a su vez, existe mucha  policía camuflada y muchos radares "municipales" los cuales, al contrario que en España, se  encuentran sin ningún tipo de aviso.  Procuremos que no nos amarguen las vacaciones.
3 – Rodar en Grupo:  Basándonos en lo mismo que en los puntos anteriores, tendremos un  grupo grande, lo cual hace mas complejo el rodar en grupo. Evidentemente dentro del grupo  habrá gente con mas nivel y gente con menos, pero recordamos que esto no es una carrera ni  un circuito, y que el objetivo es rodar en Grupo. Todos deberemos respetar el orden del grupo  y evitar situaciones peligrosas o comprometidas.  Se programarán los repostajes en función de  las posibilidades/necesidades del día a día.
4 – Seguramente la más importante:  Ser Solidarios:  Es bastante sencillo en un grupo grande  que  el  grupo  se  corte  por  cualquier  circunstancia,  al  llegar  a  un  cruce,  al  realizar  un  adelantamiento…  Lo suyo es que cada uno controle quien tiene delante y detrás en todo  momento para no perder a nadie por el camino.  Aun así, se irá facilitando información de las  rutas y hoteles para que nadie tenga problemas de encontrar el hotel en caso de que fuera  necesario.
Así que… ya no nos queda nada…  ¿Estáis preparados?
  ¡Pues ya deberíais estarlo y empezar con los preparativos para el viaje del World Ducati Week  2018!
 Ah, y si es vuestro primer viaje al extranjero, ¡atentos a los consejos que os damos al final de  este documento!
 ¡¡¡VAMONOS!!!
MIERCOLES 18 DE JULIO
RUTA – BARCELONA – CHIVITAVECHIA – Grimaldi Lines.
Salimos desde Barcelona, en la naviera Grimaldi Lines, a las 22.15h. l dirección del puerto y el teléfono de contacto es el siguiente:
Grimaldi LInes: Tel +34 902 531 333
Muelle de Costa, en el puerto de Barcelona.
Check – In: Antes de acceder al Barco es necesario realizar el Check – in, que será efectuado por nuestro personal en la Estación marítima.
Debe presentarse el billete y el documento de identidad (de todos los pasajeros). Cada tarjeta de embarque es individual. Para los pasajeros con camarote, o sea, nosotros, nos entregarán también la llave del camarote, que debe conservarse con cuidado durante todo el viaje.
Los pasajeros con vehículo deben presentarse al menos 2 horas antes de la hora de salida.
Los pasajeros sin vehículo deben estar también al menos 1.30 min antes de la hora de salida, aunque recomendamos estar también 2 horas antes.
IMPORTANTE: Fuera de dicho horario puede denegarse el embarque. En temporada alta, que es el caso, debe tenerse en cuenta que puede haber grandes colas para los embarques. Si el pasajero no se presenta en dicho horario perderá el derecho a embarcar, independientemente de si tiene reserva o no.
El incumplimiento de la normativa en materia de seguridad, los nombres de los pasajeros, los datos de documentos de identidad, la marca modelo y tipo de vehículo indicados en el billete
deben corresponderse obligatoriamente. En caso contrario podrá ser denegado el acceso al barco.
Dentro del Barco.
Como todos ya sabéis, los camarotes son de 4 personas, compartidos.
En nuestra estancia en el barco, dispondremos del menú completo, es decir, desayuno, comida y cena.
Composición:
Desayuno
1 bebida caliente (café o leche y café o té o leche blanca)
1 croissant o 2 sándwiches con 2 mantequilla y mermelada (mono porciones) 1 vaso de zumo de fruta
Comida
1 primer plato
1 segundo plato
1 guarnición
1 pieza de pan
1 pieza de fruta de estación
1 botella de ½ litro de agua mineral o 1 cerveza italiana o ¼ vino o 1 bebida sin alcohol
Cena
1 primer plato
1 segundo plato
1 guarnición
1 pieza de pan
1 pieza de fruta de estación
1 botella de ½ litro de agua mineral o 1 cerveza italiana o ¼ vino o 1 bebida sin alcohol
JUEVES 19 – CHIVITAVECCIA – TERNI
Llegamos a Italia. Tenemos ahora un recorrido de aproximadamente hora y media hasta nuestro destino, donde iremos tomando contacto con las carreteras y los conductores italianos.
Somos un grupo grande como ya hemos comentado, por lo que hay que tener en cuenta que debemos mantenernos juntos y agrupados ya que sobre todo a la salida del puerto, existen bastantes cruces y rotondas en las que no debemos perdernos. Al igual que al ir llegando a la ciudad de Terni, deberemos estar todos ya agrupados para entrar juntos en la ciudad y llegar al hotel.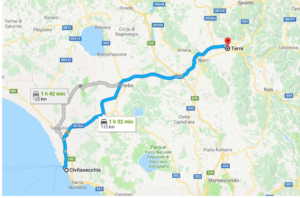 En la localidad de Terni, donde tendremos el hotel listo para recibirnos. El hotel tiene parking propio, por lo que no tendremos ningún problema en dejar nuestras motos preparadas para salir al día siguiente.
La cena también esta incluida (al igual que el desayuno del día siguiente). Se comunicará en el barco la hora del mismo, ya que nos servirán a todos juntos.
VIERNES 20 – TERNI – RIMINI.
Salida sobre las 9h en dirección a Rimini, donde tendremos nuestro siguiente hotel. En función de los horarios hay varias visitas de ciudades que se encuentran en la ruta, que pueden hacerse, (a falta de confirmar) por esta parte de la Toscana, como por ejemplo Asis. También, por la tarde, y en función de las posibilidades, podemos realizar una pequeña excursión al muy próximo San Marino.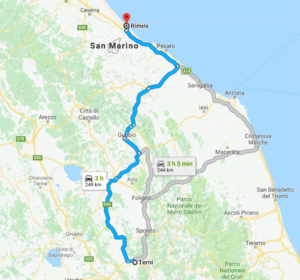 Mucho ojo con el calor: La zona es calurosa y mas en verano, superando los 35 º sin problemas. Por tanto, ir preparados para el calor.
SABADO 21 ‐ MISANO ‐ WDW
Dispondremos de el día completo para realizar la visita al circuito, o cualquiera de las actividades posibles.
En este enlace podéis ver toda la información al respecto:
Verano, estilo italiano, la Riviera Romagna, la ciudad de Bolonia y el rugido de miles de motos Ducati: tres días para conocer a los campeones de Ducati, explorar la gama Ducati 2018, participar en los cursos de la Academia DRE y sumergirse en la atmósfera de la Tierra de Alegría Scrambler. La Semana Mundial de Ducati es esto y mucho más.

Actividades:
Rides on the track

Engine Assembly/Disassembly Competition

Ducatistas Parade

Stunt shows

Scrambler Village
Riders' lap of honour

Dragster Show
Garage Contest

Heritage Contest

International Village

Ducati Service

DRE Safety Academy

DRE Enduro Academy

Tech Village
Ducati Shop

Ducati University
Visit to the Ducati Factory and Museum at reduced rate
DOMINGO 22 – RIMINI – BOLONIA‐FLORENCIA
Por la mañana, a primera hora partiremos dirección Bolonia, para realizar la visita al museo y a la fábrica Ducati en Bolonia. Por la tarde, comenzaremos el regreso dirección Florencia, donde disfrutaremos de una de las ciudades más bellas de Italia.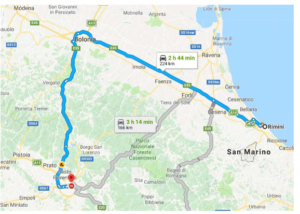 LUNES 23 –FLORENCIA – CHIVITAVECCIA
A la hora establecida partiremos con rumbo a Civitaveccia para tomar el ferry. Muy importante comprobar que llevamos toda nuestra documentación con nosotros para que no tengamos ningún problema en el embarque del ferry.
Al igual que a la ida, se deben tener las mismas precauciones a la hora del embarque (Ver pag 4)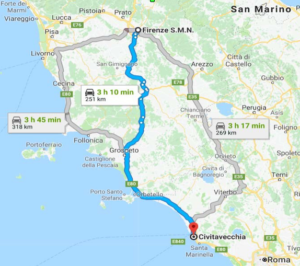 OPCION WDW 18 EN AVION:
Como no todo el mundo puede/quiere o dispone de los días necesarios para desplazarse en moto desde España a Missano, tenemos también la posibilidad de realizar el viaje en Avión.
En este caso, el club, ofrece la siguiente posibilidad:
2 Noches de Hotel en Rímini en AD : 130€

+ Entrada al WDW.(ver mas adelante las opciones)
El vuelo y el desplazamiento desde el aeropuerto seleccionado hasta el hotel de Rímini, NO ESTA INCLUIDO, debiendo cada uno gestionar su vuelo y traslado a Rimini, tanto de ida como de vuelta, así como la forma de desplazarse hasta el WDW cuando sea necesario.
Aquellos que deseen optar por este tipo de viaje, por favor poneos en contacto con la administración del club o con vuestro delegado mas cercano.
INSCRIPCIONES:
Por temas de logística, este año las inscripciones están limitadas a 28 personas en camarote cuádruple y en habitaciones compartidas (dependiendo del hotel pueden ser de 2 ‐3 o 4 personas)
El precio del

viaje completo

, con lo establecido anteriormente es de

520 € por persona
Importante: No incluye la entrada al WDW que habrá de ser incluida a parte (ya que puede ser con moto, sin moto, etc.)
Aquí tenéis en enlace a los precios de las entradas del WDW:VER PRECIOS
A ‐ Para realizar la inscripción:
Debe comunicarse a la directiva del club y realizar el ingreso del dinero en la cuenta del club:
IBAN: ES15 0182 2884 8402 0154 9614
Una vez realizado el pago, se enviará el justificante a: info@ducaticlubdocdce.com
El orden de llegada del mail será el orden definitivo, recordad que solo hay 28 plazas.
Para todos aquellos que deseen ir con su moto en el barco: Es obligatorio enviar vía mail al club la siguiente información:
Nombre y apellidos.
Número D.N.I.
Fecha de caducidad D.N.I. Fecha de nacimiento.
Nacionalidad.
Modelo de Motocicleta y Matrícula.
Recordad, cualquier fallo o cambio tendrá un coste determinado por la naviera en cuestión, mínimo 30€ por modificación.
B‐ MUY IMPORTANTE.
Para los asistentes al WDW18 en moto y que quieran rodar en el circuito, para poder hacerlo tenéis que responder al correo que os enviará Ducati (revisad bien vuestros correos sobre todo el Spam) ya que ahí figuran los horarios y tenéis que responderlo personalmente.
Solo se puede entrar con MONO DE CUERO ya sea de una o dos piezas.
C – INFORMACION:
Podéis contactar con la directiva para ver si hay plazas vacantes, ya que iremos publicando las plazas disponibles
RECOMENDACIONES:
Para todos aquellos que no hayan viajado fuera de España en moto, comentaros lo siguiente:
OBLIGATORIO:
– DOCUMENTACION DE LA MOTO: SEGURO, ITV, etc… la policía no suele parar mucho, pero aseguraos de llevar todo en regla por si acaso.

– DOCUMENTACION PERSONAL: Imprescindible para subir al barco.

– TARJETA SANITARIA EUROPÉA ‐ Es gratis, pero hay que solicitarla y tarda en torno a 15 días aprox.

– TARJETA DE CRÉDITO válida para pagar en el extranjero: Con esto me refiero a aquellas visa/mastercard con pin y chip, ya que, en muchas gasolineras en Italia, directamente no hay nadie y hay que servirse uno mismo. Ojo al saldo, cada vez que se paga, se hace una reserva de entre 80 y 120 euros, aunque solo repostéis 20. Por tanto, aseguraos de que las que lleváis tengan saldo suficiente, ya que tardan unos días en reembolsarte lo que no utilizaste en el repostaje.
Consultad con vuestro banco y comprobad las comisiones que os cobran.
‐
RECOMENDABLE:
Seguro que vienen bien los consejos, son la suma de kms y viajes realizados.
– ROPA: En este caso, un poco de todo, hay que estar pendiente de las previsiones. Hará calor seguramente en Bolonia, San Marino etc, pero habrá que confirmarlo cuando se aproximen las fechas.

‐ ROPA DE AGUA: Es muy fácil que algún día llueva, así que equipaos bien también para el agua.

– PARA EL FERRY: En principio tenemos los desayunos, comidas y cenas incluidas. También tenemos descuento en las bebidas, pero como son muchas horas, si alguien quiere algo más, sabed que los precios del barco son bastante caros. Si queréis llevar cualquier cosa, recordad comprarla antes de la hora de inicio del embarque. En la zona del embarque no hay nada, así que habrá que llevarlo desde antes.

– Herramientas: Son pocos días, y no creo que haya problemas técnicos, pero echad un vistazo a que tengáis todo. Kit antipinchazos o grasa para la cadena son de los básicos, pero algún pulpo, red etc. por si se necesita cargar algo más, no está de más.

– Medicamentos: Llevad lo que consideréis importante, ya que las farmacias allí, sin receta y demás, suelen ser complicadas y caras.
En cuanto al Barco:
En el momento del embarque BARCELONA los DEPÓSITOS han de estar LLENOS, obligatorio.

Para los que no habéis embarcado jamás las motos, si abren rampas en el barco para subir, se hace de uno en uno, y el segundo no empieza hasta que el primero no ha terminado la rampa.

Llevar cuatro trapitos de unos 20 x 20cm para cuando os amarren las motos se proteja la zona.
Bueno… pues todo listo…
¡¡¡¡¡VAMONOOOOOOOOOOOOOOOS!!!!!